Accelerating FDI Inflows
20/04/2022 | 10:50
Vietnam's quality investment attraction policy has started to work effectively, shown by not only the number of FDI projects but also their higher quality, green trends and usage of renewable energy. Vietnam continues to be a safe, attractive and potential investment destination for foreign investors.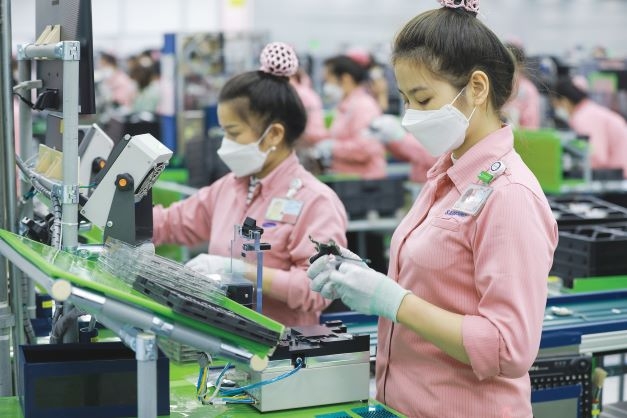 Q1 disbursement is the highest in 5 years
According to the General Statistics Office (GSO), realized FDI in Vietnam was estimated at US$4.42 billion in the first three months of 2022, up 7.8% year on year. This was the highest first-quarter value in the past five years. Of the sum, the processing and manufacturing sector accounted for US$3.44 billion or 77.8% of the total. The electricity, gas, water, steam and air conditioning production and distribution sector came second with US$379.8 million, or 8.6% of the total, followed by the real estate sector with US$350.3 million, accounting for 7.9%.
Foreign investors registered to invest US$8.91 billion in Vietnam in the year to March 20, down 12.1% from the same period last year.
They registered to invest US$3.21 billion in 322 new projects, up 37.6% in projects but down 55.5% in capital from the same period last year. The processing and manufacturing industry made up the largest share of US$2.19 billion, accounting for 68.2% of the total, followed by real estate with US$599.9 million (18.7%) and other industries with US$422.7 million (13.1%).
Among 35 countries and territories with newly licensed investment projects in Vietnam in the first three months of 2022, Denmark was the largest investor with US$1.32 billion, accounting for 41.1% of the total, followed by Singapore with US$626.6 million (19.5%), China with US$379.5 million (11.8%) and Taiwan with US$219.9 million (6.8%).
By sector, nearly US$5 billion of foreign direct investment was channeled into the processing and manufacturing industry, accounting for 68.7% of the total newly and additionally registered funding, followed by real estate with US$ 1.71 billion (23.5%) and other industries with US$569.6 million (7.8%).
Explaining the FDI value decrease, Ms. Phi Thi Phuong Nga, Deputy Director of the Department of Statistics, Industry and Construction, said that looking into details, the first-quarter FDI decrease still showed good investment attraction trends and factors because new projects still increased by 37.6% and the number of projects that revised up their investment fund climbed 41.6%.
Besides, registered FDI shrank 12.3% year on year on the deep decline in newly-registered capital. Last year, there were two billion-dollar projects, US$4.41 billion in total. Basically, foreign investors still considered Vietnam a safe investment destination, showing their confidence in the business environment. They will continue to expand investment as Vietnam has contained the COVID-19 pandemic and the economy is still growing on recovery momentum.
Better capital quality
The draft Foreign Investment Cooperation Strategy for the 2021-2030 period is being finalized by the Ministry of Planning and Investment, and is expected to be submitted to the Prime Minister soon. The draft details have not been announced but its important content is ensuring harmony of attracting investors and prioritizing the connection of global production and supply chains.
Recently, at the regular cabinet meeting in March 2022, Prime Minister Pham Minh Chinh also gave important instructions. Accordingly, it is necessary to show more clearly the requirements for inclusive quality and the effect of FDI attraction in Vietnam. In principle, foreign investment attraction must be selective, in favor of global production and supply chains, green business, high technology, auxiliary technology and advanced governance.
Remarking on good preparations for new big FDI inflows, Mr. Do Nhat Hoang, Director of the Foreign Investment Agency (FIA) under the Ministry of Planning and Investment, repeatedly affirmed that Vietnam is having the opportunity to welcome new-generation investment flows of partner countries and giant multinational corporations to reposition manufacturing and diversify supply sources. Therefore, improving the quality of capital flows is considered a very important factor. This goal is also set in Resolution 50-NQ/TW of the Politburo on approaches to perfect institutions and policies and improve foreign investment cooperation quality and efficiency by 2030.
The Ministry of Planning and Investment proposes seven criteria for high-quality FDI attraction: Investment rate, labor, technology, technology transfer, connectivity and good impact on other sectors, environment, and defense-security.
Reasonable investment incentive policies for investors in Vietnam in chains and formation of close connectivity with Vietnamese companies are also being developed. When drafting seven criteria for FDI attraction in the next period, to be submitted to the Government, the Ministry of Planning and Investment emphasized the "connectivity and ripple effect" criterion.
Accordingly, the criterion of having Vietnamese enterprises in chains is placed above criteria like the share of Vietnamese enterprises in total enterprises joining and performing contracts for assembly and supply of components, inputs and services to make products, or the ratio of product cost created by Vietnamese enterprises participating in such value chains.
Other necessary conditions made ready for new investment inflows include reviewing and supplementing the clean land fund, reviewing electricity planning, training high-quality human resources, and supplementing policies for developing supporting industries.
Thu Ha
Source: Vietnam Business Forum
Original link