Discussing blockchain development in Vietnam
30/11/2022 | 08:40
The tech investment event on November 28 opened opportunities for participants to discuss the legal policy framework for the sector in Vietnam and South Korea.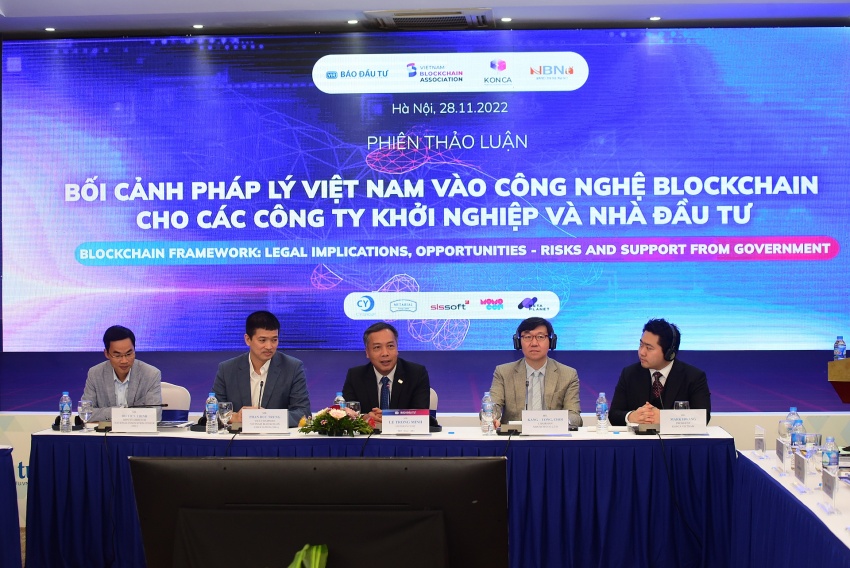 The event "Technological Investment Cooperation between Vietnam and South Korea" was hosted by Vietnam Investment Review in collaboration with Vietnam Blockchain Association (VBA), Korea NFT Content Association (KONCA), and NBN Korean TV Channel on November 28.
At the event, Jun Kwon, director of Meta Planet company said, "Vietnam is a young market, and the age group from 10-20 accounts for 30-40 per cent. We have prepared games related to NFT and the metaverse so that Vietnam's customers not only play games but also benefit from gaming. In the coming time, we plan to continue promoting development in Vietnam's market."
"I think that blockchain investment policy in Vietnam will also be a bit more difficult than in Korea. But through the VBA, we have the opportunity to better understand the Vietnamese market and learn the experience of previous businesses to penetrate into this market," he said.
The event aimed to open opportunities for the participants to discuss the legal policy framework for the technology sector in Vietnam and Korea; connecting the Vietnamese business community with the global technology community and organisations.
It is also an opportunity for experts in the field of blockchain technology to share experience in human resource development in the digital era. The event also marked the 30th anniversary of diplomatic relations between Vietnam and South Korea.
Tran Quang Chien, founder and CEO of ONUS said, "The biggest risk for businesses to apply blockchain is legal issues. Vietnam has yet to complete a legal framework for businesses to use blockchain. The second risk of applying blockchain is the infrastructure system."
"Unlike the old database systems that need just one server, the application of blockchain will require many networks of servers, in which parties join to create a system. The third risk is in terms of people. We will need highly qualified experts to be able to apply blockchain. In addition, after we build blockchain products, we will need to take steps to educate users to be able to access the technology easily," said Chien.
Vietnam has issued some guidelines and policies to create blockchain development opportunities. In particular, a research group under the Ministry of Finance was set up to study and propose policies to manage virtual assets and cryptocurrencies. In March 2022, Deputy Prime Minister Vu Duc Dam signed and promulgated a decision on the national strategy for developing a digital economy and digital society by 2025.
The Vietnam Blockchain Association was officially launched in March 2022. The association aims to share experiences and resources to promote research, testing, and application of blockchain technology, contributing to successful national digital transformation and digital economy development in Vietnam.
Hoang Van Huay, chairman of the VBA, said: "Since its official launch, the VBA has implemented many works to promote the effective application of blockchain technology to Vietnam's socioeconomic development, including supporting and encouraging businesses to apply this technology. However, blockchain is still a new technology in Vietnam, so the association is also advocating a plan to disseminate this knowledge."
The association plans to discuss with policymakers to develop legal regulations for blockchain in Vietnam, thereby supporting Vietnamese businesses in applying technology to their production and business, Huay said. On this road, Vietnam must learn from development cooperation with other countries, such as South Korea.
The standing vice chairman of the VBA said that he expects the most at today's discussion between the VBA and Korean partners was the experience in training and law. "The development of blockchain in South Korea, especially actively using NFTs in the entertainment industry, are lessons that Vietnam can learn," he said.
Mark Hwang, president of the Korea NFT Content Association, said: "Our programmes aim to connect artists and businesses with the NFT business, as well as training programmes of NFT experts. We help all sides in the process of connecting and achieving their goals. Moreover, we will connect and be ready to support associations in the traditional field that want to participate in the blockchain field."
Experts also openly discussed the new trends of blockchain technology, such as NFT, Metaverse, DeFi, DAO, and so on, which are the focus of the 4.0 revolution.
Ha Thanh
Source: VIR
Original link