FDI Flows Strongly into Real Estate
20/06/2022 | 08:56
Besides industry, processing, and manufacturing, real estate is very attractive to foreign investment capital (FDI) flows in the first months of the year. The market prospect will also continue to be vibrant with many new projects in the future.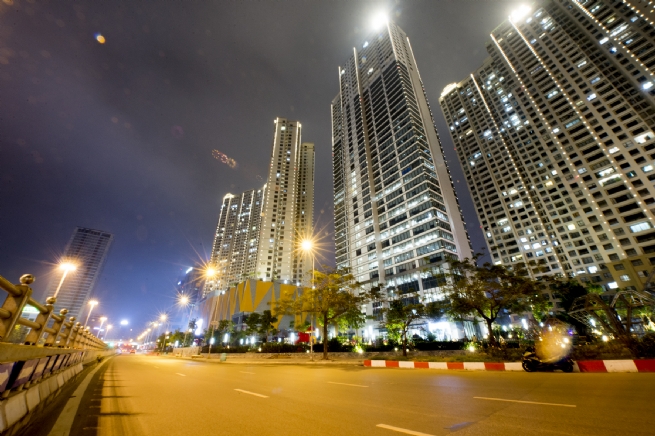 Sharp increase
According to the Foreign Investment Agency (FIA) under the Ministry of Planning and Investment, foreign investors registered to invest US$11.71 billion in the year to May 20, down 16.3% over the same period of 2021. Although the registered fresh fund declined, both added funds for existing projects and equity purchasing funds increased sharply from a year ago.
Foreign investors invested in 18 out of 21 economic sectors. The real estate sector was the second-biggest recipient of FDI with nearly US$3 billion, accounting for 25.6% of the total, only second to the processing and manufacturing sectors. They invested in Vietnam's real estate market in three main ways: capital contribution, equity purchase, and investment loan.
Notable projects in the five-month reporting period included VSIP Bac Ninh (Singapore) which registered to add its investment fund by nearly US$941 million; Lotte Eco Smart City Thu Thiem invested by Lotte E&C; and a 300-ha industrial land development project of YSL Group in Nam Binh Xuyen (Binh Xuyen district, Vinh Phuc province).
Big investors are still familiar names like Singapore, China, Japan and South Korea. Notably, a significant amount of FDI funds from South Korea tended to flow strongly into Vietnamese real estate in recent years. The value invested in this sector in 2018 doubled that in the previous year. Since 2020, this value kept growing and reached 13% by the end of November 2021.
Notably, industrial property is developing strongly. Logistics and forwarding are interested by many foreign investors which tend to invest in smart cold storing or warehousing. This is also facilitating upcoming production projects thanks to new rental forms and many other solutions. The upmarket property segment has also caught the fancy of foreign investors.
Opportunities coupled with challenges
Explaining the reason why FDI inflows into the real estate sector increased sharply, economic experts said that Vietnam has political stability and economic growth. Vietnam is very active to improve its investment and business environment.
In addition, the transition from the Investment Law 2014 to the latest Investment Law 2020 has had a positive effect on new licensing and adjustment of foreign investment projects in Vietnam.
Mr. Matthew Powell, Manager of Savills Hanoi, said, industrial land in Vietnam has a relatively reasonable price and there are many reputable real estate developers with appropriate legal policies. These factors attract foreign investors to invest in Vietnam.
Therefore, industrial property is forecast to catch the flashlight on the real estate market in 2022 following a tough year in 2021. This segment still achieved impressive growth indicators. Especially in the long term, some manufacturers have begun to expand their operations in the Vietnamese market to help diversify production.
Speaking at the recent announcement ceremony of the Annual Report on Foreign Investment in Vietnam, Associate Professor, Dr. Ngo Tri Long also said that Vietnam's real estate market is still quite attractive to foreign investors. In 2022, FDI inflows are expected to strongly roll in amid tourism recovery and smart city construction in the country. M&As will continue to be the most attractive form. This is also an important driving force for the market to recover after the epidemic.
Given good epidemic control, stable political situation and open investment environment among others, Vietnam is still considered a bright "star" in attracting FDI inflows. This is a good opportunity to catch the investment fund from multinational corporations which are repositioning global manufacturing. Domestic enterprises have a great opportunity to participate deeply in the global supply chain.
In fact, experienced and financially capable foreign investors will help create real estate products of international standards. FDI inflows not only help domestic real estate businesses learn and improve their competitiveness but also help reduce pressures on the banking system in real estate investment.
Besides opportunities, FDI in real estate also poses numerous difficulties and challenges for the economy. There is a big gap between investment commitments and realizations. Many investors in Vietnam just buy and sell projects and register investment projects but take no further action, leading to abandoned lands in the context of increasingly scarce land supply.
Therefore, FDI in real estate depends on the feasibility, practicality and sustainability of projects that need to be continuously assessed and evaluated to find appropriate solutions. Furthermore, it is necessary to seriously and effectively select quality FDI projects.
Last but not least, FDI capital is also a "way" to draw other funds into the real estate market, which has a lot of potential for development. This segment not only needs an open legal corridor but the market itself and domestic enterprises also need to work more transparently and strongly.
Thu Ha
Source: Vietnam Business Forum
Original link