A real estate, green energy, multi-sector success story
11/06/2021 | 14:41
(VEN) - Hacom Holdings Investment Joint Stock Company was established in 2005 as a construction and installation enterprise with some 20 employees. The company has since expanded its scale, scope and capacity with 14 member units and over 500 employees across the country, and dozens of large and small projects in numerous fields.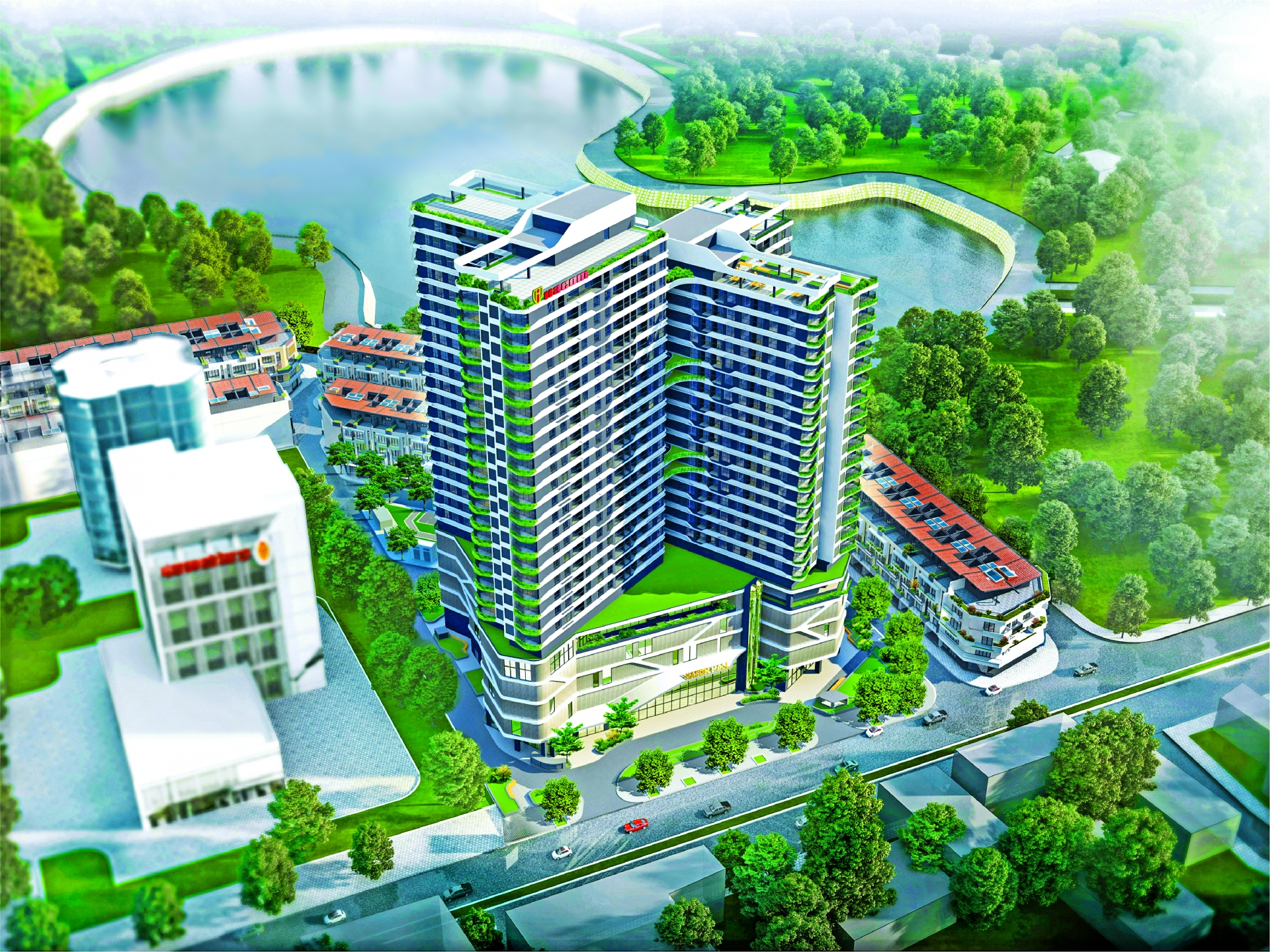 Social and high-end real estate
After certain achievements in construction and installation works, Hacom Holdings decided to expand its investment in real estate in 2012, with several projects across the country such as the Duyen Thai Urban Area in Hanoi's Thuong Tin District, an urban area in the Southeast Quang Tri Economic Zone, and the Imperial Hotel and the Imperial Plaza in Lam Dong Province's Da Lat City. In particular, the company has been implementing strategic projects in the south central coastal province of Ninh Thuan, bringing new vitality to the local real estate market, creating a driving force for the province's economic development and fundamentally changing the face of Ninh Thuan.
The success of the Binh Son-Ninh Chu Marine Park has motivated Hacom Holdings in Ninh Thuan Province to continue implementing the Northeast New Urban Area project (Area K1), which is expected to contribute to accelerating the province's urbanization process. The company is now taking the final steps to complete the project.
The company's imprint has become increasingly bold in Ninh Thuan Province since the Hacom Galacity social housing project kicked off in April 2019 with investment capital of more than VND560 billion. Including four buildings with 848 apartments, the project will be ready in the third quarter of 2021, serving 3,000 residents.
Hacom Holdings has been affirming its brand with real estate projects for high-income buyers, too. The Hacom Mall Ninh Thuan has a total investment of more than VND1 trillion with over 500 hometels and luxury apartments. In addition to favorable geographical location, the project is also designed to achieve the EDGE green building certification by SGS.
The Binh Son-Ninh Chu Marine Urban Area project (Area K2) covers 51.8ha, including 1,600 beach villas and townhouses, a three-star hotel chain, over 5,000 condotels and a five-star Hacom Luxury hotel complex. The project has a high competitive advantage in Vietnam's resort real estate market.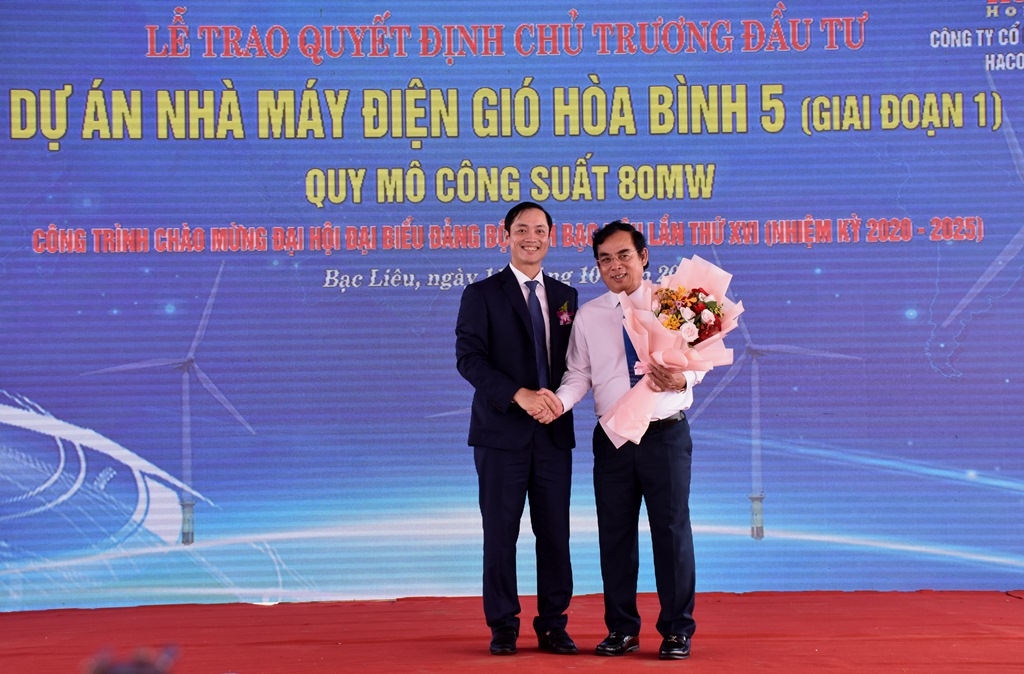 Tran Phu Chien, board chairman of Hacom Holdings (left), presents a bouquet of flowers to Duong Thanh Trung, chairman of the Bac Lieu People's Committee (2016-2021 tenure)
Renewable energy ambitions
Hacom Holdings implemented the first solar energy project in Ninh Thuan Province in 2019 with investment capital of VND1.2 trillion for capacity of 50MWp, creating an important turning point for the company to expand its scale and operation and catch up with the clean energy development trend. The Hacom Solar project (Phase 1) in Thuan Nam District's Phuoc Minh Commune was put into commercial operation on October 31, 2019.
Following the success of the Hacom Solar project, the company implemented the Hoa Binh 5 Wind Power Plant project (Phase 1) in Hoa Binh District's Vinh Thinh Commune in Bac Lieu Province, with a total investment of VND3.2 trillion for capacity of 80MW. The plant is expected to be put into operation in October 2021, providing an average power output of more than 280 million kWh per year.
With the goal of becoming a pioneer in Vietnam's renewable energy sector, Hacom Holdings has conducted research and surveys on solar power projects in the provinces of Quang Tri, Dak Nong and Ninh Thuan with total capacity of more than 280MWp; and expanding the wind power project (Phase 2) in Bac Lieu Province with total capacity of more than 300MW. In addition, the company is preparing to invest in some waste-to-energy (WTE) plants in the provinces of Nam Dinh, Thai Binh, Vinh Phuc and Quang Tri.
Investment in renewable energy and real estate projects is the company's strategic and long-term vision. To that end, the company has promoted the application of digital technologies to improve the efficiency of governance and expand trade and production activities, while enhancing the quality of human resources in order to create a solid foundation to become one of Vietnam's leading multi-sector groups.
Hong Kim
Source: VEN
Original link