Five reasons to own 5-star resort villas at Angsana Residences Ho Tram
05/05/2021 | 15:13
Angsana Residences Ho Tram has taken the spotlight in the hospitality market due to its remarkable features, satisfying high-end customers and generating attractive returns.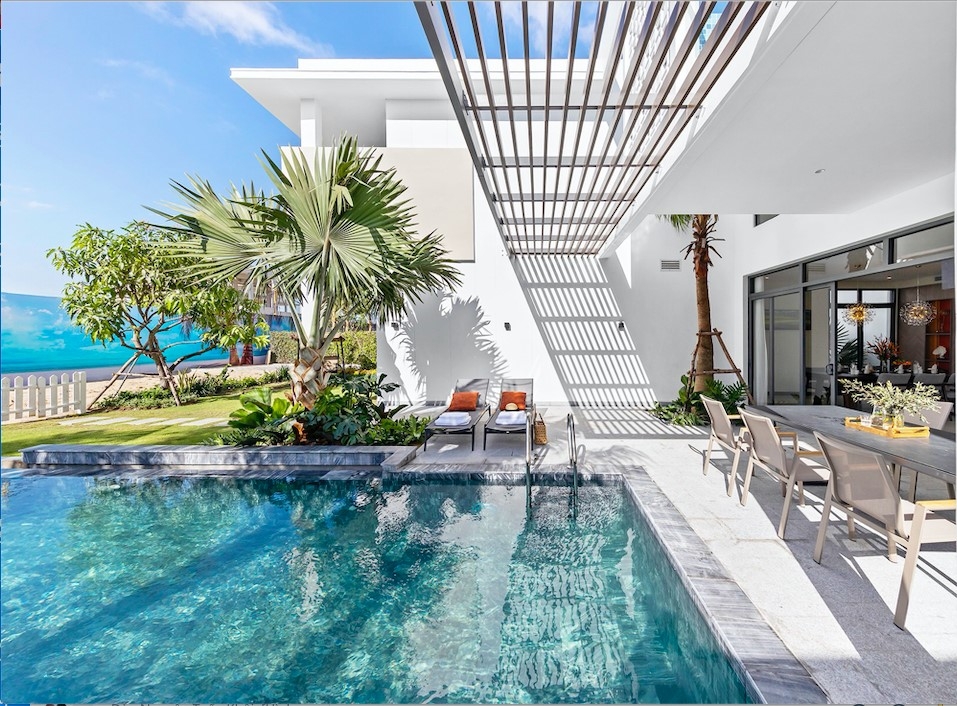 First – ideal destination
Ho Tram – Xuyen Moc is a popular destination for both local and foreign tourists, which is only a 2-hour drive from Ho Chi Minh City. The location is known for its pristine beaches offering a magnificent view of the sunrise and sunset. Situated at a premium location, Angsana Residences Ho Tram is surrounded by the beautiful coastline and green nature, making it an ideal getaway from the hustle and bustle of the city.
Second – prestigious operator
To ensure international standards, developer Madison Land under Madison Group has selected Singapore's Banyan Tree Group as the operator for Angsana Residences Ho Tram. Banyan Tree Group owns and manages many luxury hotels and resorts across the world with a view to provide a "Sanctuary for the Senses", deliver unforgettable experiences for guests, and bring long-term investment for partners.
Third – ownership rights
Villa owners at Angsana Residences Ho Tram will also become official members of Sanctuary Club, an exclusive programme for property owners by Banyan Tree Group. Club members will receive special recognition with an extensive range of discounts and benefits throughout the Banyan Tree Group worldwide. In addition, the villa owners are allowed to enjoy 30-day free stay at Angsana Residences Ho Tram and 15-day stay at any destination within the exchanged network of Banyan Tree Group.
The living room at the show villa of Angsana Ho Tram draws inspiration from melaleuca
trees
Four – Indigenous design
Honouring the indigenous beauty, the interior idea of Angsana Ho Tram villa draws inspiration from the Melaleuca tree that line the scenic Ho Tram coastal route. The melaleuca trunks, leaves, and flowers have been slightly stylised and are incorporated in every detail. In addition, the designer has used a simple and neutral colour palette with more emphasis on the colour orange to exude a subtle yet modern lifestyle spirit.
In addition, Angsana Residences Ho Tram also boasts impressive on-site amenities with many layers of trees, Serenity stream-walk with a length of 325m running through 52 villas, a main swimming pool, modern gym, all-natural spa, and a 5-star beachfront restaurant exclusively for residents.
Five – real investment value
All villas at Angsana Residences Ho Tram are designed with flexibility from 2 to 3 keys. Thus, property owners can thoroughly optimise the number of rented rooms and increase operating capacity. Each room-key has its own swimming pool or jacuzzi, garden or balcony, and ensure private space and comfort for its tenants.
Angsana Residences Ho Tram also boasts the show villas with complete interior at the construction site. Customers and investors can visit and experience these show villas to explore more about the construction progress and get the true feeling of the resort space. This demonstrates Madison Land's firm commitment to the quality of the villa and the legality of the project in an effort to bring true values to customers.
Since the end of April, Madison Land has been regularly organising mini-events every weekend so that customers can directly visit the project and the show villas. Units at Angsana Residences Ho Tram are expected to be officially handed over to owners and be put into operation in the second quarter of 2022.
Following the successful signing ceremony of Madison Land with the 6 official F1 trading floors, The Developer is offering some exclusive promotion for early bookings. Customers can directly contact these below real estate: CBRE Vietnam, DKRA Luxury, IQI Vietnam, Rever, Savills Vietnam, and Thu Thiem Real to explore more about Angsana Residences Ho Tram and its potential investment.
For more information, please contact:
Hotline: 0917.259.369
Show villa address: Phuoc Thuan- Xuyen Moc, Ba Ria-Vung Tau
By Van Nguyen
Source: VIR
Original link