GoStream receives second VinaCapital investment
24/03/2021 | 10:35
(VEN) - In a deal expected to contribute to Vietnam's digital transformation, the Vietnamese livestream startup GoStream recently announced agreement on investment by VinaCapital Ventures to expand its activities.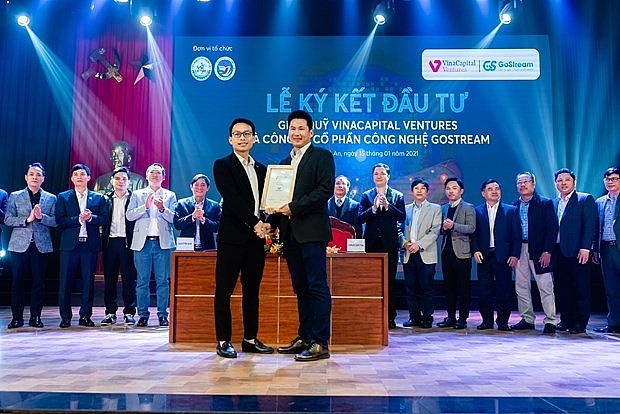 GoStream, founded in 2017 by three engineers with track records in digital enablement, is a livestream support software. It allows users to livestream from pre-recorded videos and from different camera sources and broadcast them at the same time on social networks like Facebook, Twitter, Youtube. Users can also livestream from anywhere by installing the GoStream app on their mobile phones without using a computer.
GoStream co-founder Nghiem Tien Vien said livestreaming on social networks is increasingly popular and attracts a large number of followers. Many brands and manufacturers regard livestream as a promotion channel to boost sales. However, creating an attractive livestream requires a professional studio, equipped with expensive equipment such as cameras and mixers, which only large enterprises can afford. GoStream, on the other hand, enables livestreaming anytime and anywhere using simple devices such as laptops, webcams and smartphones.

Co-founder of GoStream Nghiem Tien Vien
GoStream says its software offers a high degree of interactivity and quick share and spread capacity. It allows sellers to easily create online sales channels similar to the low-cost Shopping TV model (from VND100,000 per month or more) based on the infrastructure of popular social networks like Facebook, Youtube and Twitter. In addition, GoStream can help media companies create brand communication campaigns through live talk shows and gameshows with viewers, as well as creating virtual classrooms on the internet through online training.
Among top 30 platforms
"The application currently has more than 700,000 users, of those 10,000 users are making livestream sales every day," Vien says. "In 2019, GoStream was listed by Facebook among the 30 most used platforms for livestreaming in the world within 30 days."
In November 2020, GoStudio, a product of the GoStream Technology Joint Stock Company, won first prize at Vietnam Techfest for its ease-of-use and adaptability to a range of online channels, including livestream commerce, online training (e-learning), and online entertainment (live gameshows). These features were especially important in the context of the Covid-19 pandemic and its forced social distancing and isolation.
The company will represent Vietnam at the Startup World Cup 2021 competition in the US. Before winning the Techfest 2020 championship with its VND200 million prize, GoStream was one of six startups introduced at US Techfest 2019, receiving seed funding from VinaCapital Ventures and then investment by Zone Startups Vietnam.
VinaCapital Ventures CEO Hoang Duc Trung said GoStream is a leader in integrating live streaming across a number of sectors. Its innovative streaming technology is helping more businesses reach more viewers and attract more potential customers. The cooperation with VinaCapital Ventures will help GoStream expand and play an even greater role in Vietnam's growing digitalization.
Although GoStream has not disclosed the value of the investment from VinaCapital Ventures, at the 2020 TechFest Vietnam the startup completed its series A funding worth US$1 million. Previously, it received US$200,000 in seed funding from VinaCapital and the startup accelerator program Zone Startups Vietnam.
Launched in 2018, VinaCapital Ventures is a US$100 million technology investment platform investing in the next
generation of promising Vietnamese and Southeast Asian startups. It is part of VinaCapital, one of Vietnam's leading
asset management companies with over US$3.3 billion.
Hai Yen
Source: VEN
Original link