Construction begins on 11th Viet Nam-Singapore Industrial Park
22/03/2022 | 17:27
VGP – Prime Minister Pham Minh Chinh on March 19 attended a groundbreaking ceremony of another Viet Nam-Singapore Industrial Park (VSIP) in the southern industrial province of Binh Duong.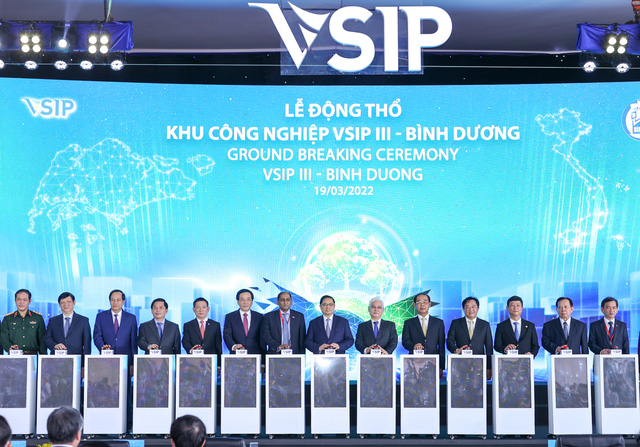 This is the third VSIP in Binh Duong and the 11th in Viet Nam.
Covering area of 1,000 hectares in Bac Tan Uyen district, the latest VSIP has total investment capital of more than VND6,400 billion (or US$280 million).
Addressing the event, Pham noted that Viet Nam and Singapore have maintained good relations across fields, in which VSIPs represents the symbol of the bilateral ties.
Both countries will celebrate the 50th founding ceremony of diplomatic ties and the 10th anniversary of the establishment of the strategic partnership in 2023, added the Prime Minister.
Binh Duong is home to the most VSIPs in Viet Nam with the third VSIP envisioned to be the model of a greener, smarter, more sustainable and inclusive industrial park, said Pham.
The Vietnamese Government will always accompany investors on the basis of Viet Nam's law, international practices and international commitments and the principle of harmonizing benefits and sharing risks, Pham pledged.
He also urged the local authorities to continue forging ahead with formulation of new-generation industrial ecosystem associated with the fourth Industrial Revolution, and offering support for businesses, and accelerating infrastructure and smart governance.
The same day, the Government chief also witnessed the granting of investment registration certificates and memoranda of understanding to investors in the VSIP, including LEGO Group's US$1 billion project.
Regarding the factory of the LEGO Group, it is planned to be the company's first carbon neutral factory in the world.
Construction is set to begin in the second half of 2022 and production is due to start during 2024.
Also in Binh Duong, the Government leader attended an inauguration ceremony of two social housing areas and a groundbreaking ceremony of a project involving construction of 20,000 social apartments./.
Thuy Dung
Source: VGP
Original link