Strength to strength for real estate M&A
26/04/2022 | 14:37
Mergers and acquisitions in real estate are resuming through a steady economic recovery, with the total transaction values exceeding every first quarter of the last five years.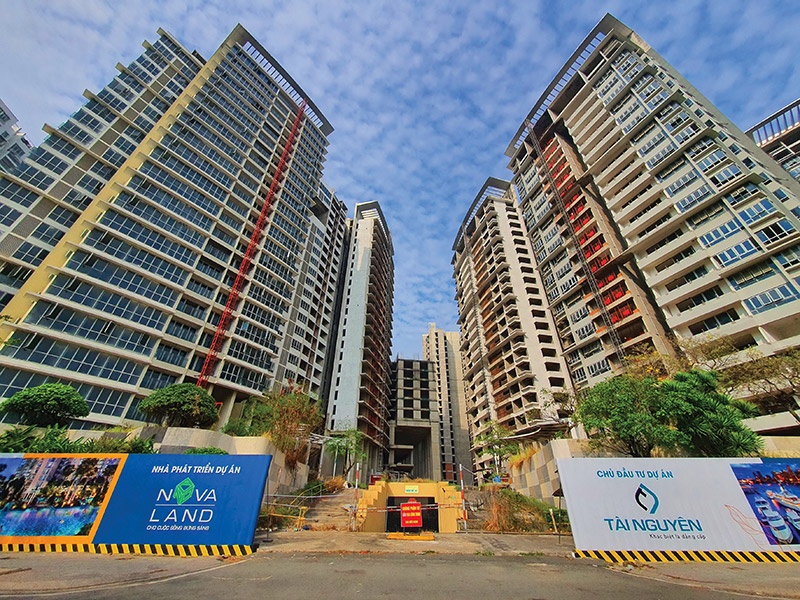 ACA Investments Pte Ltd., a fund management company under Japanese Daiwa Securities Group, announced it would invest $30 million into Phat Dat Real Estate Development late last month.
The cash comes through a convertible loan with no collateral as a part of its strategy to diversify its capital structure and cooperation with key strategic partners.
In addition, Quynh said, the cooperation with international strategic partners will create a premise for the growth of its professional capacity and market understanding.Talking with VIR, Phat Dat's marketing and communications director Dang Hoa Quynh expressed the importance of this transaction to the company. "Loans with favourable interest rates will help us obtain long-term capital, lower the optimal cost of capital for investment and development, and increase our competitive advantage," Quynh explained.
Phat Dat is one of the leading developer cooperating with partners to expand land funds for real estate projects nationwide. The loan will be used for investment, development, and expansion of target land funds, serving the implementation of a 5-year business plan focusing on residential areas, resorts, and industrial urban real estate, as well as factories and logistics.
A Cushman & Wakefield report shows that in the first quarter of 2022, real estate businesses spent nearly $1 billion acquiring projects, even higher than the value recorded in the 2019-2021 period.
According to Trang Bui, general manager of Cushman & Wakefield Vietnam, Vietnam's office sector has re-emerged at the top spot after a prolonged lockdown and a work-from-home wave.
"Healthy demands from both local and international investors on the office segment along with industrial services, hotels, and retail will strengthen confidence in the market for the rest of the year. However, the biggest barrier remains that the land fund in large urban centres such as Ho Chi Minh City and Hanoi is increasingly depleted, leading developers to look for availability in neighbouring provinces," Bui said.
The office segment accounts for 58 per cent of the total value of merger and acquisition transactions, while industrial and residential segments arrive at 28 per cent and 13 per cent, respectively.
Hanoi registered about 58 per cent of total transaction volume in the country, primarily contributed by the $500-million transfer deal of the Capital Place office building from CapitaLand Development to Viva Land.
The total stock in Ho Chi Minh City and Hanoi comprises mainly grades B and C spaces, and there is a lack of availability in Grade A products that are sought after by foreign-led businesses coming into the country, according to Bui.
Divya Doshi, chairman and founder of Singaporean investment management firm Aurous Capital, said it has partnered with Saigon Telecom Technology JSC to develop a $2.5 billion industrial and urban complex project in the northern province of Bac Giang. "The country has been one of the main benefactors from tensions between the United States and China, with many manufacturers turning to Vietnam as an alternative. The Vietnamese market offers complementary opportunities for Aurous Capital's investment portfolio," Doshi said.
Future development aims for Aurous Capital are to promote more foreign investment into Vietnam and create more accessibility to global investors, according to Doshi. Investing in Chinese non-performing loans (NPLs) has been the group's flagship strategy with a healthy successful track record over the past nine years.
"Investing into NPLs is currently highly compelling given the dislocations of the global capital markets and inflation worries as they are negatively correlated to traditional asset classes. We are excited about exploring the opportunity and replicating our strategy in Vietnam," he added.
The global real estate market recovery is expected to hit the fast lane, and Asia-Pacific has been leading the recovery to date, with an earlier return of growth and pre-pandemic levels of investments in most markets. This momentum is expected to be strengthened by a more profound and broader level of occupier demand later in the year.
After the manufacturing and processing industry, real estate has been the second-largest recipient of foreign direct investment over the past 10 years in Vietnam. Real estate developers from Singapore, South Korea, and Hong Kong have invested billions of dollars in the country.
Quynh Chau
Source: VIR
Original link