Textile producers aspire double-digit growth in 2022
26/04/2022 | 14:27
Many textile and apparel producers have envisaged a double-digit growth in 2022, rooted in a strong market rebound globally and advantages from the implementation of diverse free trade agreements with Vietnam's engagement.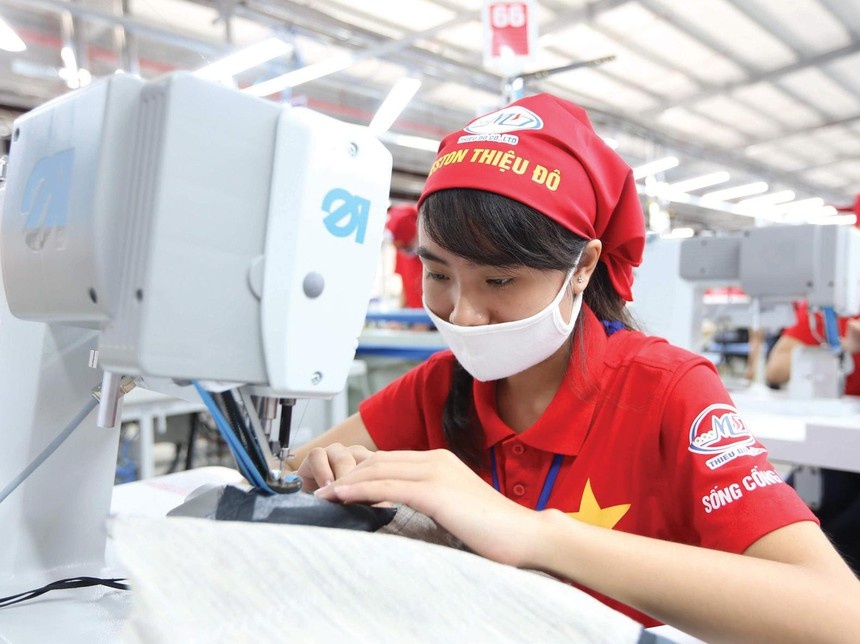 Dap Cau Garment JSC, a big name in the textile clothing sector in the northern region, has just fixed its business targets for 2022 with total revenue to reach $32.6 million, pretax profit of $978,260 and a 20 per cent dividend payment.
Compared to one year ago, such targets are fairly ambitious as last year the company reaped revenue of $20.78 million and a profit of more than $913,000, up 40 per cent compared to 2020.
Last year, Dap Cau had to stop production at its factories based in Bac Ninh and Bac Giang provinces for nearly two months due to the pandemic.
The company once faced the threat of losing its set targets. Later, when production resumed, Dap Cau succeeded in making a turnaround, with revenue acceleration and strong profit growth.
To reach set business targets amid fluctuating market conditions, firms have crafted diverse solutions to optimise business efficiency.
With an expansive network of more than 10 member units, Hung Yen Garment Corporation (Hugaco) eyed a drop of $434,780 in its revenue in the first four months last year compared to the previous year due to rising logistic costs and lower export prices, and 3 per cent drop in the USD-VND exchange rate.
Undergoing numerous hardships, Hugaco closed 2021 with upbeat performance, mirrored by a 22 per cent jump in its total revenue and a 17 per cent hike in pre-tax profit to reach $30.8 million and $36.56 million against set projections, respectively.
Based on 2021 results and 2022 market assessments, Hugaco aims to reach $32.6 million in total revenue and $34.78 million in pretax profit this year.
Despite the adverse impacts of the pandemic and the Russia-Ukraine conflict, Garment 10 Corporation aims to post over a 10 per cent jump in full-year revenue target in 2022 to reach $165.2 million, and nearly $1.3 million more in pretax profit to reach $5.21 million.
Than Duc Viet, Garment 10's general director, said that despite multiple hardships in 2021, such as a 54 per cent drop in order intake for suits compared to pre-pandemic times, soaring logistics costs, and container shortages, the company still managed a 12.5 per cent jump in pretax profit which fetched $3.98 million.
To reach set business targets amid fluctuating market conditions, firms have crafted diverse solutions to optimise business efficiency.
Accordingly, Dap Cau Garment JSC will further invest in upgrading equipment and building a new plant in Bac Giang which plans to use 1,500-2,000 labourers to boost production capacity.
Meanwhile, according to Pham Thi Phuong Hoa, Hugaco's general director, in 2022 the firm is set to spend $8.26 million on equipment innovation and upgrading its warehouse system and production workshops.
In addition, the company envisages building a residential bloc in Hung Yen province with an investment value of about $3.26 million for their labourers.
Meanwhile, Garment 10 is deploying plans for factory expansion to raise production capacity.
The company will be opening three more plants recruiting from 3,000-5,000 labourers in Thai Binh, Thanh Hoa, and Quang Binh to best serve export orders in 2022 and beyond.
"As Vietnam has stepped into the third year of fighting the pandemic, we have accumulated a wealth of experience to manage production. Simultaneously, high-value orders for suit products from US and EU markets are resuming growth. These lay the ground for our proposed growth augmentation," said Viet.
Yen Thuy
Source: VIR
Original link